"The Dude" is Rude:
The Crazy Genius of a Master Artist – By Shadez, Just Sayin'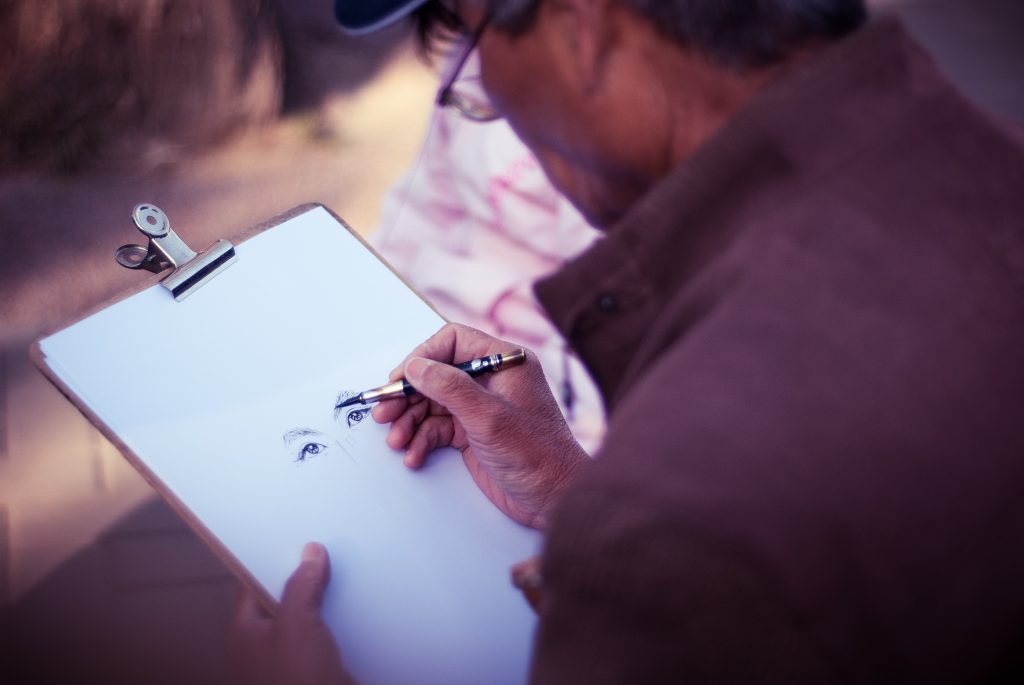 I recently watched an interesting documentary titled "Rude Dude," – I know, not something you'd immediately think was deep, fascinating, or emotional.
Think again.
The play-on words title is about artist Steve Rude, who unapologetically calls himself "The Dude" (long before "The Big Lebowski" was a thing), and who has at moments in his life lived up to the Rude name more than the Dude name. But whose genius and skills are undeniable.
I should know because I used to try to deny them.
I was introduced to Steve Rude through the world of comic books when I was a teenager in the early 80's, when he co-created and served as the artist for the independent publisher Capital Comics.
I wasn't feeling him…then.
At that time, it was all about the "New Teen Titans" and the "Uncanny X-Men" and the two dominant artists who worked on those books, George Perez and John Byrne respectively. Their styles and what they added artistically to the stories had me and a good portion of fandom hooked.
Comparing their level of detail, drama, and characterization to what I saw of Rude's economic, black and white, drawing style…I would love to say at 12 years old I was sophisticated enough to be decerning about great art but I wasn't, so I snubbed Steve Rude and his character Nexus.
I distinctly remember seeing and hearing the hype about Rude, referring to him as "great" and "genius," but I missed it like a toddler swinging at a whiffle ball.
I know better now. I still love Perez and Byrne, but now I can respect and therefore add Rude to my list of "greats."
Here's what I didn't see before. Steve Rude is an artist, not a comic book artist, which is a limiting definition but an artist with mastery of his medium and who sometimes draws comics.
What I saw as economic, was also beautifully sleek and efficient in line execution. His work is dramatic in the use of shadows made by large black areas defining shapes and mood. The style is at the same time graceful, sci-fi, and classic.
The "classic" comes from his clear visual influence by the work of Alex Toth in the cartoons of the 60's, particularly "Space Ghost." Rude is no knock off Toth but there is a visceral connection binding their styles.
In addition to the drawing technique, the communication of movement in the scenes he draws; the accuracy of proportion and perspective; the unique use of "camera angles" and page design all mix together so creatively that it goes beyond choice and decision, but into inspiration.
It's inspired action, if you ask someone who taps into that sub conscious space, they'll have a hard time giving a cogent explanation of where it comes from.
Why? Because you can't teach it and you can't control it any more than you can define it beyond "genius" and similar terminology. As an artist, all you can do is admire it because you know what you're seeing is the individual God-given talent behind the hand.
Now here's the thing, Rude is a great artist and he knows it. It makes him demanding of himself and hard to manage because the source of the genius, the inspiration that truly moves an artist, doesn't show up on-demand. You can practice to perfect what you imagine but the imagination is the engineer of the train and nothing moves until the engineer says so.
So, what if his work can be late because the inspiration isn't there, so what if you miss a deadline, this is ART! Brilliant art that rare few can create, isn't that worth waiting for?
Well, no, it isn't…not in the business world where time is money. Yes, it is a cliché, but it's a cliché because it is a cornerstone of business. Consumers want their products on time and the better the product the sooner they want it.
That creates…conflict.
And Steve Rude doesn't shy away from conflict. Actually, "The Dude," as Rude characterizes himself, is often in conflict with the world that can't keep up with him and at conflict with himself, when he can't keep up with his own mind.
He's a troubled man. A tortured man; loved by his family and friends but also tortured by how he, at times, treats them.
The documentary highlights this part of his life with an unwavering, unapologetic light. Forcing Rude to confront his damaging behavior, while chronicling him not truly being able to control his darker self. They interview his wife and reveals the unbelievable sacrifices she makes in support of her husband who believes in himself so much it blinds him to the risks she has to take because she finds herself pulled in by his magnetism, charm, and depression driven blackhole.
There are stories from his small children, who express their fear and love for their father, depending on which father they get that day.
Those scenes hurt the most.
When you see someone so unbelievably talented you want to attribute that awestruck reverence to all aspects of them. You want to believe, that their extraordinary gifts make them extraordinarily good people as well. But that's the thing; being that good; being extraordinarily good has extraordinary costs and we never know the price a genius pays for their gifts.
Man…I'm just sayin', ain't nothing for free.
(Visited 31 times, 1 visits today)