Meet Co-Author Dr. Karen Hills Pruden of Step Into Leadership Greatness, Leaders Producing Leaders Volume 2
Dove Style Magazine was excited to sit down and talk with Dr. Karen Hills Pruden about why she, with no hesitation, decided to be a part of Step Into Leadership Greatness, Leaders Producing Leaders Volume 2, by Visionary Dr. Jennifer Jones Bryant.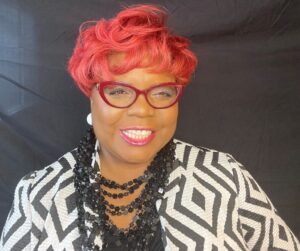 It all started with being a part of Volume 1 for Dr. Karen. She shared that her experience in being a part of Step Into Leadership Greatness, Volume 1 was something that she genuinely enjoyed. The networking with like-minded individuals was inspiring and she loved how organized and structured the process was under Visionary Dr. Bryant. She also loved the fact that the book shared different forms of leadership. She tapped into "The Absent Leader" role in her chapter in the first volume that shared the concept of managers who do not manage. It was such a wonderful overall experience for her the 1st time, that when the opportunity to be a part of Volume 2 arose, she would not miss this second chance to do it all over again.
Dr. Karen Hills Pruden says that leadership does not exist unless you are making impact. She explains that if there is no change, there is no impact, and you cannot be an effective leader if there is no impact. She also mentioned that there is a difference between Managers and Leaders and so often they are treated as synonyms.
With this Volume 2 leadership book project, Dr. Karen Hills Pruden is tackling the chance to share leadership from another perspective, which brought about her new chapter, "The Reluctant Leader". Sometimes it can be difficult to help someone who has leadership qualities, but resists the leadership role. She feels that as a leader, you must be able to help others push through those challenging and difficult moments.
In speaking with Dr. Karen more in depth about leadership, she shared with me that you must be able to articulate your value when you have a seat at the table. You must command your resources by showing your value. She wants anyone that picks up this book and reads her chapter to know that a leader must teach people what they need to know, even when they push back and resist, and she gives some great scenarios on how that plays out within her chapter. A true leader must stand their ground and create confidence in others. She says she is not backing off! She is going to do what is right even when they are not receptive.
Dr. Karen Hills Pruden is an author/co-author of nineteen books in total of which seventeen are #1 Amazon Best Sellers. She has a community called Sister Leaders and she is a female leadership coach who loves collaborating with women who work in middle management and are seeking senior leadership roles. Leadership is about making impact in any space according to Dr. Karen Hills Pruden. She has worked in the Human Resources area for 27 years as well as an operations manager of tax offices, so leadership is nothing new to her. She came to a point in her life where she decided to pivot and find a new lane and direction, so she decided to move forward in the direction of Senior Leadership. Being in Senior Leadership for the last 15 years provides her with great insight, because she brings empathy and compassion having started from the bottom and moving to the top.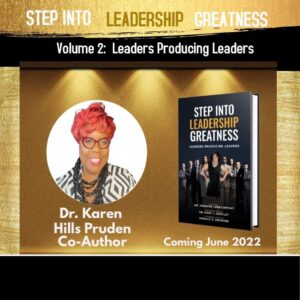 Dr. Karen Hills Pruden feels that being an effective female leader is very important and she shared a leadership tip that she found to be highly effective, not only as a female leader, but as a leader in general. She says that you should find yourself a mentor and be open to learning by listening.
She has a 5-year plan to becoming a full-time entrepreneur and she has already started by purchasing a TV channel platform that will extend her reach globally. She left a message to the readers, "As a leader you must see what needs to be done and help others to get there." She feels that we should contribute to the next generation of leaders and wants to be known as someone who gives all she can give!
For more information, please contact Dr. Karen Hills Pruden @ drkarenhillspruden on IG and LinkedIn.
(Visited 22 times, 1 visits today)