Meet Co-Author De-Borah Mack of Step Into Leadership Greatness, Leaders Producing Leaders, Volume 2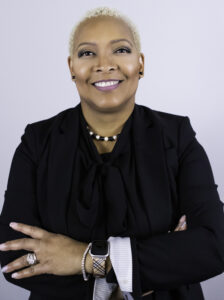 Stepping into leadership is nothing new for co-author De-Borah Mack, so when I had a moment to have a conversation with her about this amazing new book collaboration coming in June 2022, she was asked the question, "Why did you want to be a part of Volume 2 of Step Into Leadership Greatness?" With no hesitation her response was familiar, "I just had to say yes to this project because Dr. Jennifer is such a stellar example of leadership." Having had the opportunity to collaborate with her on many projects, she could not pass up this great chance to do it again. She made mention of a project that they had worked on involving domestic violence awareness that stood out of the many.
De-Borah shared how proud she was of Dr. Jennifer's success with Volume 1 and how she was able to help others as a "Super Mentor" in the government and corporate sectors. So saying "no" was never an option in response to being part of Volume 2.
I had to dive right in and ask De-Borah how she felt about leadership. She shared that no matter what environment you are in, an opportunity will present itself to lead. She explained that you should always be in a position to listen and learn. "You are a better leader when you listen," she said. Leaders need to listen before they do anything else.
By doing so, you're open to someone else's perspective and as a result they can better help others to accomplish their goals or be better leaders themselves. We all have had experiences that we've learned from. However, sometimes it can be difficult to listen to others. She practices listening daily at home, on the job, and in every aspect of her life. Her goal is to become an effective listerner and she desires to understand what is being said before she starts to advise someone on something that could affect their entire life.
"What you say can always be walked back and things will come full circle,
so, we must be able to LISTEN if we want to be an effective leader."
De-Borah Mack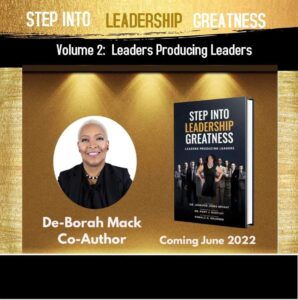 Wanting to go deeper into the subject of leadership, I asked her what the subtitle of the book meant to her? Without hesitation she explained that it meant taking everything you have within you to help others. Leadership opportunities are not always predetermined so it is your responsibility to help others become leaders. She added that being a great leader and producing other leaders means that you must have the ability to lead those who are above you on the job. It is possible that the mentee can also lead the mentor. Continuing, she said that a great leader will make sure that the person leading them is not put in a bad space or made to look bad because their goal is to help them show up in their best light. Now, that is a great leader! Your role is to influence those in your sphere of influence to be better leaders.  "I am a leader," she said.
The main message that De-Borah wants the reader to walk away with from reading her chapter is that they understand that the ownness is on YOU! Individually, you must take responsibility for the steps you take as you move forward – good, bad, or indifferent.
For more information on how to contact De-Borah Mack, please email her @ atonya7@yahoo.com.
(Visited 77 times, 1 visits today)