Meet Co- Author Dr. Shirley Bryant of Step Into Leadership Greatness, Leaders Producing Leaders Volume 2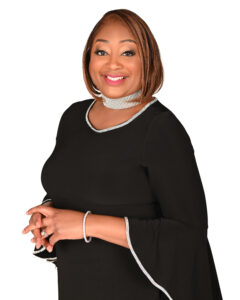 Dr. Shirley Bryant sat down with me to talk about leadership as a co-author of the new book release, Step Into Leadership Greatness, Leaders Producing Leaders Volume 2. She found herself part of this wonderful process from a friend who had collaborated with Visionary, Dr. Jennifer Jones Bryant on Volume 1. She shared that she wanted to also be a part of this project because she felt that she was destined to work on a project with Dr. Bryant at some point, and this presented the perfect opportunity, never mind the fact that she loves collaborations. Of course, the subject of Leadership was also a key factor!
Dr. Shirley Bryant shared that she had never seen a book of this caliber before that discussed the topic of leadership and opened the reader to understanding the many facets of leaders. It was refreshing to see how leadership shows up in all areas of our life. She believes that everyone's purpose should be to have a legacy and produce other leaders, so being part of Volume 2 talking about leaders producing leaders, was a perfect fit.
I asked her to define Leadership and she was able to do that in one word, "Humility."  She feels that leadership is about shaping the future and passing on opportunities, knowledge, and lessons to those who will continue the path that you have paved for the future of others.
Dr. Shirley Bryant is a retired sergeant major from the U S Army, who is now working in the Human Resources area, so she lives leadership daily. She is CEO of, "Let's Talk About It Behavior Coaching that focuses on young people. Her behavioral counseling helps to assist young people who struggle with the impact of covid on their lives, including the transition back to school. She has a non-profit called Education Our Youth, Inc. Her belief is that it is all about our future in America and moving our people forward.
I asked Dr. Shirley Bryant what was next on the horizon, and she shared that she is in the process of releasing her first book titled, "My Conversations with God." She is also part of other book collaborations and is looking forward to more opportunities where she can connect with others on future projects because she loves to network with other like-minded people. Her chapter in Step Into Leadership Greatness, Leaders Producing Leaders Volume 2 is, Strategic relationships that cultivate leadership development opportunities" so keep a look out, she is on a mission, planning to meet her goal of leaving a powerful legacy.
Sharing our best with others, helps them to grow. – Dr. Shirley Bryant
For more information on Dr. Shirley Bryant, please visit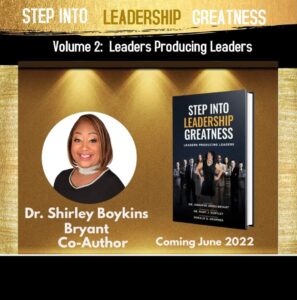 LinkedIn: linkedin.com/in/shirley-bryant-ph-d-44a7b1126
Twitter: Shirley84928799
Facebook: https://www.facebook.com/shirley.bryant.14
Instagram: https://www.instagram.com/shirleybryant626/
Website:  https://lets-talk-coaching.com
(Visited 44 times, 1 visits today)