Previously: While attempting to unsuccessfully ride a leafray, Jaak and Jaan Papier have encountered the nomadic Peikwa people in a ash-covered area of Honor Alley. Once the hub Gateway World of co-existing dimensions. On Earth, the children's parents have made the startling acquaintance of someone claiming to be one of Jonah's relatives.
Chapter Five: The Long Lost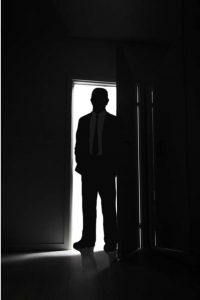 "There is no way you're Paul Papier," Kari announced. She stared at the aged man before she and her husband. Even though he held what appeared to be an override key identical to the keys only Papier family members were in possession of, it wasn't possible for him to be the unaccounted for and presumed dead patriarch of the Papier family.
"You're mighty young looking for a man that lived in the 1800s," Jonah said taking a ready stance.
"Please, children," The man raised his hands in a sign of non-violence. "The world is at stake. We don't have time for tropisch fisticuffs. I am indeed Paul Papier. I have been preparing for this day for centuries. I can stop the convergence and save the planet."
"How do you know about…?"
"I'm Paul Papier. I started this family's duty to safeguard the Gateway World."
Jonah snorted in disdain. "Well, it doesn't look like you did a very good job of it since the Gateway World was destroyed."
The man sighed with impatience. "Only Honor Alley was destroyed … to close the portals … to stop Mobiwyte? Come on now. You most have read about it in my journals. We don't have time for this!"
Jonah and Kari remained unmoved, unconvinced, and on guard.
Jonah squinted at the intruder. "Paul Papier is dead. Why would my family lie about that?"
"I'm only presumed dead. My body couldn't have been found – because I'm still alive. I even left you a note – well, to my descendant – I had no way of knowing who you'd be. The note was conditioned that in order to inherit this house, you had to name your children as I wished."
He eyed the house and both of the Papiers in front of him and shrugged. "Since you're living here, I'm guessing you did as I requested. Where are Jaak and Jaan now?"
"A lot of the world is desert now." Hauntress explained. "And there are fewer and fewer of us to keep the peace."
"Once, this world was a vibrant hub of market and entertainment." Quwee picked up the narrative. "Honor Alley was the epicenter for the gathering of travelers from Otherplaces. It linked them all. The Piekwa paced Honor Alley and the lands beyond. We were respected by the Hye-"
"And feared by the low," Jaan interrupted with eagerness. "They brought peace to the lands where ere they go. A truer friend we nere could find. Honest, brave, sharp, and kind." She beamed with happiness and called out the title. "The Patrolmen!"
Jaal was confused. He'd never heard that poem from his parents before. "Where did you get that from, Jaan?"
"Mom told it to me once while you were away on a camping trip with Dad. She said I didn't need to worry about you because The Patrolmen would look out for you and Dad while you were away."
The Hauntress smiled at Jaan with appreciation. "Very good, little one. You only made one mistake. It's not "low", it's the LOA. The Legion of Anarchists. They were our persistent enemies. They were a virus trying to spread to the Otherplaces. They were led by a despicable man named …"
"Mobie White, aka The Whale!" This time is was Jaak who interrupted. "He was some kind of poacher, right? A pirate-chef that captured exotic animals and ate them?"
"Mobiwyte, was his name. He was a cannibal." Quwee said with disgust. "There was a food blight, and Mobiwyte began to round up the poor and elderly. He fed them to the LOA, who all but worshiped him as their savior. Then travelers began to disappear.  Aegus, our Habb, devoted himself to Mobiwyte's capture and subsequent execution for his crimes. They had a long contention. It cost the Habb his leg when, The Whale, managed to trap him. The monster was eating it right in front of him when we got there. The Habb was never the same after that – he was obsessed with capturing The Whale. We knew he had no intention of putting him on trial though. We didn't blame him for wanting revenge."
"You said, "rounded up", Jaak cocked his head at Quwee. "He would have to have had some authority to do that – some reason the people would comply. He was one of you, wasn't he? He was a Patrolman?"
Quwee nodded. "You are very smart, little warrior. Mobiwyte was Peikwa. He betrayed and dishonored us. There were others that agreed with his twisted belief that we should rule the Otherplaces from here, where we could spread from the Gateways to conquer and subjugate. Mobiwyte was Kweg before I was. There was an attempted coup to usurp the Peikwa from Aegus. Mobiwyte wanted to be Habb. But we thwarted the attempt. Mobiwyte and his followers went underground – they faded into the populous. Some shielded them from us, most were forced to aid them through blackmail or hostage. I was promoted to Kweg."
Hauntress and Quwee exchanged looks and made some unseen communication. Quwee looked cautious. Hauntress looked confident. Jaak looked annoyed and decided to give voice to his feelings.
"Alright, what's going on here? You just happened to be in the area out of this whole wide world? Our names seem to mean something to you. You appear to be connected to one of the teaching poems my parents are always drilling into us…"
Hauntress thinned her lips and sighed with resignation. "What is your other name young warrior?"
"Other name?"
Hauntress nodded sagely. "By your clothing, and the fact that you don't know how to ride a leafray, you are not from here. Not the Alley, because it is no more. You come from some Otherplace, yes?"
Jaan began to blurt out a response, but Jaak stopped her. He worried that hungry snitches would sell them out to Voodoo witches. He eyed the gathering of what he could only describe as ash-ninjas. Real ninjas, at least on Earth, were neither good nor bad, they just worked for people that were good or bad. But The Patrolmen, from Jaan's poem, were apparently the good guys – basically, the police. He decides to divulge their last name.
"It's Papier. I'm Jaak Papier."
A murmur passed through the group again.
"You see Peikwa?" Hauntress raised her voice above the low din. "The child of paper will find the egg. The egg of fire long gone dead. The fire will grow to glorious flame. And the people will know him by the roar of his name."
Qukwee nodded with belief. "The prophecy tolls." To be continued…
(Visited 39 times, 1 visits today)