Previously: In Fahlden's distant past, the event of dimensional convergence had been foretold, and the destiny of one family, The Papiers, was planned. The disappearance of Jonah and Kari's children, Jaak and Jaan, threw a wrench into the plan. Now, there may be a clue to where the children have gone.
Chapter 10: Fresh Eyes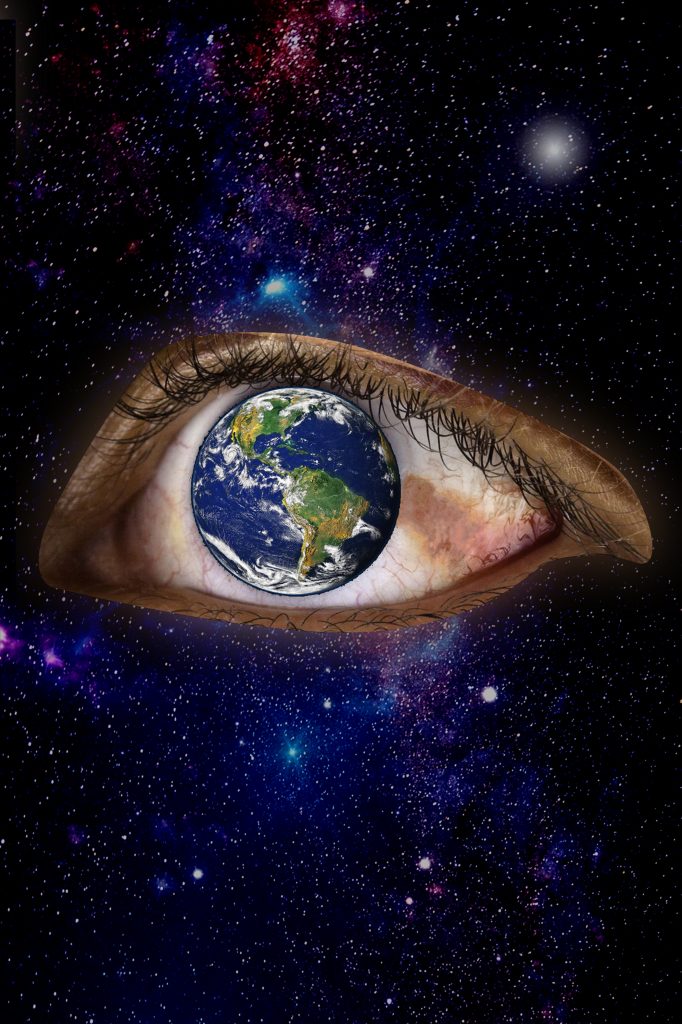 Paul Papier gripped Jonah's shoulder. "A leafray!"
"What?" Jonah swiped the older man's hand off.
"One of the creatures from the stories, a book," Kari said. "But this one looks … wrong. Aren't they supposed to be fall-colored? This one looks ill. It's dull and muted."
Paul moved to the porthole. "Where is it– there, I see it… I've never seen one look like that… but it's definitely a leafray."
He turned to the couple with a hopeful smile.
"They're on Fahlden! This is perfect." He clapped his hands together.
"Perfect?" Jonah mocked. "Our kids are there on their own."
"Ok," Paul conceded, "not 'perfect', but we have a location. It's where they were supposed to be. Remember the poem? "
Jonah pointed at the room. "That thing has been it there, probably pulled in when the breach happened. If it's been roaming around in there while the Myst was equalizing, it could have disrupted the chronosync. The children could have been there for weeks instead of half an hour. They could be dead!"
"That's unlikely." Paul began to explain. "Wild leafrays are usually in pairs. If one is here, the other must be there. They won't move around much until they are reunited. That makes it a good marker."
Kari eyed the creature in her children's room. "A maker for what?"
"For where the tear is. As long as it doesn't close. Now, I can get there and put an end to all of this. And send the kids back."
"Send the kids back?" Kari repeated his words. "You're planning on staying there?"
"It's my home." Paul said with melancholy.
She shook her head. "Not anymore. You left before the portals were destroyed, right"
Paul nodded.
"You only know that Honor Alley was destroyed because of the writings and poems, right?"
"Correct."
"You have no idea what Fahlden is like now. That leafray in there proves it's not the same world that you left all those decades ago. I'm guessing that the leafray's appearance is an indication that things have been different for a long while."
Jonah concluded what his wife was saying. "The world you knew may not exist anymore."
###
Jaak stared at Patrolman Perath from a distance. The group of nomads were on the move. Their passage over the burned out, ashy ground left no footprints as their dragging cloaks removed any sign that they had been there. The drag lines looked like leafray trails. He and his sister were in the middle of the group so that the Peikwa behind them would erase their tracks. Jaan held her brother's hand, but she was in quiet conversation with the Hauntess.
Qwee startled Jaak with a quiet word as he was so focused on Perath. "What's on your mind little warrior? You seem well plexed/"
"It's that guy Perath. Why do you trust him? After what he said back there, how can you trust him?  I'm sure he'll betray you to your enemies the first chance he gets."
"Because he was vocal about his discontent?"
Jaak nodded.
Qwee shook his head. "No, Jaak. The fact that Perath is loud makes him the easy choice. He is upset not just because he is hungry, angry, and frustrated. He's upset because the rest of the Peikwa are suffering too. Perath is predictable. I know how he thinks, because he tells everyone how he thinks. That allows the others to vent their feelings to him. It is the quiet ones that I most worry about. The ones that lag, that distance, but are always in the back, but close enough to hear when things are being decided. If there is a betrayal, Perath will be the one asked to lead it, or be framed for it."
"So, he's your spy?"
"No, little warrior, he is my second in command."
Jaak went along quiet, and instead of glaring at Perath, he took hard looks at the rest of Qwee's patrolmen. They were sullen, demoralized, and tired. The loud growling of occasional stomachs reminded Jaak that he and his sister hadn't eaten in a while – since dinner actually. They were being put to bed before they were sucked into this hard-luck world. There were hopeful glances turned his way, some polite smiles under sunken eyes. Determination clenched the jaws of a few. He couldn't see the faces of the people ahead of him. But … there! He felt it. The eyes of resentment on the back of his head. When he turned to see who the feeling emanated from, there was only the three patrolmen making sure the group's tracks were being covered. Their eyes were all downcast. His father told him to trust his instincts, everything wouldn't always be in front of his nose. He had a choice of three to be concerned about. He caught Qwee's attention.
"Have you ever been tracked down before? Or intercepted by the LOA?"
"We've had encounters with them a few times. Usually, Hauntess warns us before we are trapped."
"You have a mole."
"A what?"
Forgetting that we weren't on Earth was easy for Jaak sometimes because there was no obvious language barrier. Clearly Fahlden didn't have an animal by that name.
"You have a spy. In the short time we've been with you, I've heard Peikwa stomachs growling- even yours. But not everyone's. My father's words keep coming back to me; 'hungry snitches who'll sell you out to Voodoo witches.' Someone here is better fed than the rest. The best way to leave tracks to be found, is to be the one responsible for getting rid of them. The ones that lag, that distance…"
To be continued…
(Visited 14 times, 1 visits today)