Meet Co-Author Chantel Edwards of Step Into Leadership Greatness, Leaders Producing Leaders, Volume 2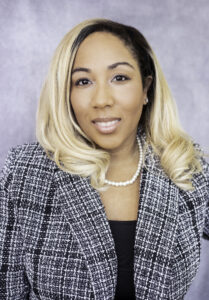 Dove Style Magazine had the wonderful opportunity to speak with Chantel Edwards, one of the co-authors in the new book, Step Into Leadership Greatness, Leaders Producing Leaders, Volume 2, by Visionary Dr. Jennifer Jones-Bryant.
Like several of the other contributors who are a part of this book collaboration, Chantel shared that although she did not get the opportunity to be a part of Step Into Greatness, Volume 1, she was not going to miss being a co-author in Volume 2. She is excited about pouring into the lives of the next generation because she feels that she has something to share that can make positive impact.
Edwards served in the United States Air Force for eight years and recently transitioned into the private sector and sees herself as a servant leader. She is the wife of a fellow Air Force Veteran and the mother of three wonderful boys ages 14, 11, and 8. She feels that it is important to provide for those whom you are responsible for in work, family, and in life. "A leader's role is to help others navigate through life and show them how to do what is necessary to get the job done," Edwards said. She has always viewed leadership from working in the trenches while leading from all sides, the back, the front, and from within. She shared that not only is it important to help those you lead understand and recognize roadblocks along the way, but it's also just as important to inspire and help them achieve anything they set their minds to accomplish.
When I asked Chantel why leadership is so important, she shared that early in her career she felt alone not knowing what to do or having anyone to turn to. However, having a leader to step in and share insight and perspective on things that she may not have been aware of or seen before, inspired and motivated her to push through and find her way. In turn, that is exactly what she loves to do for others. It brings her joy to help others get to where they need to go because that is when she's operating at the core of her being, a Servant Leader!
She also believes that leaders come in all forms, meaning, "Managers are not always leaders and leaders are not always managers."
I took the question a step further and asked her, what the subtitle of the book, Leaders Producing Leaders, meant to her? She explained that it means having a network of leaders who stretch you and demand that you step up and do better. She feels that one should always be growing, and they should never allow themselves to become stagnant. No matter how challenging a situation becomes, they should keep pushing until they reach their goal. Not only does she believe that true leaders help with that push, but she also loves being that positive push for others seeking guidance and direction.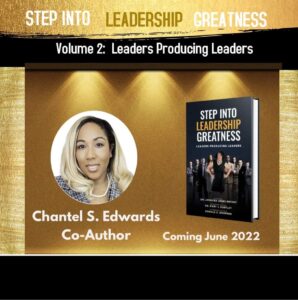 Being an effective leader can be a full-time job whether it be at work or within the family unit. As the release of this amazing book grows closer, we asked Chantel what else she's looking forward to, and she hinted that we might definitely see her in the book arena again as she embarks on a career in the Cyber Security field. Along her career journey, she has recognized that she is a minority in this ever-growing profession, and needs to make her presence known, so keeps your eyes and ears open.
To learn more about Chantel Edwards, connect with her via:
Website: www.E5Endeavors.com
Email: E5endeavors.llc@gmail.com
LinkedIn: https://www.linkedin.com/in/chantel-edwards-86538220a
(Visited 207 times, 1 visits today)