Meet Dr. Mary J. Huntley, Foreword Author of Step Into Leadership Greatness – Leaders Producing Leaders, Volume 2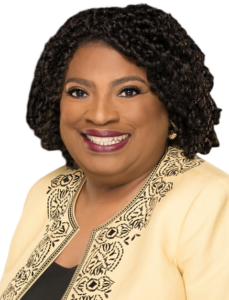 What an honor it was to speak with Dr. Mary J. Huntley who not only authored the Foreword in Volume 1 of Step Into Leadership Greatness – Leadership Isn't Just A Title, but she was also asked to return and write it again for Volume 2! She's extremely honored to be a part of, yet another great project led by the multi-award winning, multi best-selling author, and phenomenal visionary Dr. Jennifer Jones Bryant.
I asked Dr. Huntley why yes to this project, not one, but two times, and she responded with confidence and pride, "Volume 1 was a phenomenal success!" She went on to say that Dr. Bryant is the best at what she does and loves the fact that she is a no-nonsense leader who knows what she wants and lays it out strategically for others to be able to follow with ease.
When she was invited to be a part of Volume 2, she knew that God was up to something amazing. She explained how she and Dr. Bryant are aligned in that they both love to empower others and see them win! "It is not a win until someone else wins too," she said. They share proven steps on how to produce an international bestseller and a desire to motivate others to reach the finish line. They are totally committed to the project and support each co-author and anyone else involved to give their best.
Writing the foreword for any book is a huge honor and Dr. Huntley does not take it lightly. She counts it a blessing to collaborate with a proven leader and visionary. "Let me tell you, she is a go-getter!" Dr. Bryant makes quiet waves while working in the trenches. You may not see her on the front line all of the time, but she is putting in the necessary work to ensure that everyone wins.
Sharing her take on the concept of leaders producing leaders, Dr. Huntley reminds us that no person is an island and got to where they are alone. Learning the importance of integrity, honesty, and dependability, all starts at home and helps one to develop great leadership skills. She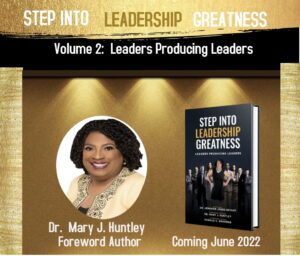 believes in the philosophy, each one, reach one, teach one! Her view is that you cannot teach others until you figure out how to reach them. You must connect and be genuinely interested in building authentic relationships. It is not just about saying something, but it's more about doing something that will make a positive impact. She says great leaders are exemplary, and not only do they know the way, but they roll up their sleeves and show the way, which is a wonderful way to lead, in her opinion. She feels that leaders have a responsibility to teach and train others how to manage any situation even in their absence. There is no "I" in team!
Dr. Mary J. Huntley is a Master Motivational Mindset Coach whose priority is to address mental health challenges head on while investing in herself and others. She also plans to continue pro-bono counseling as a licensed professional counselor, who chooses to be a part of the mental health solution. It is not always about money. In her words, "God pays dividends that are out of this world." She also wants to continue the mission of helping our fellow sisters realize their dreams, and that today is the day for them to believe in themselves. You are enough and your time is NOW! Dr. Huntley is ecstatic about publishing her first anthology. With that same excitement, she takes great pleasure in assisting others who are working on theirs. "If serving is beneath me then leadership surely is beyond me," she said.
For more information about Dr. Mary J. Huntley, visit www.drmaryjhuntley.com.
Facebook – DrMary J Huntley
Instagram – @authordrmaryjhuntley
LinkedIn – Dr. Mary J. Huntley
(Visited 57 times, 1 visits today)