"1st Lady of Sax" Corinthia Cromwell
Healing Hearts, Minds, Body and Souls Through Her Music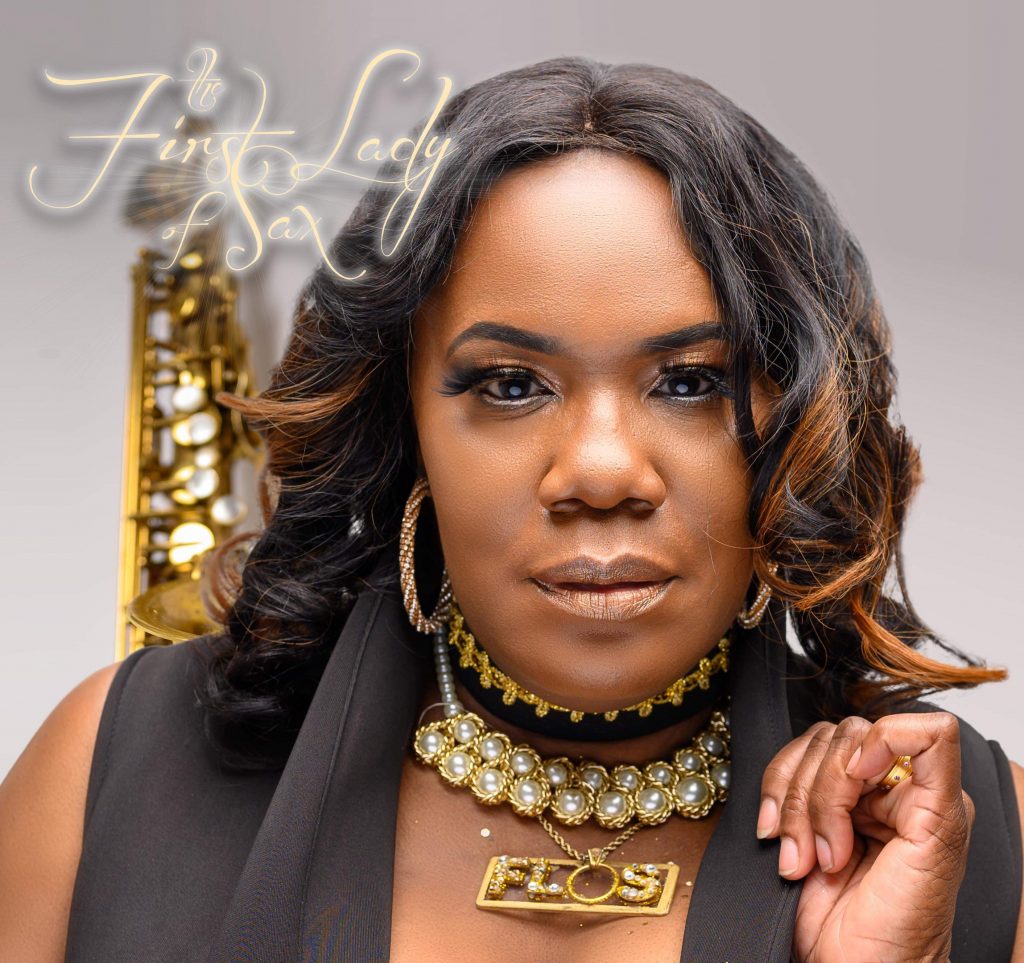 Corinthia Cromwell has loved music all her life. She also adopted an entrepreneurial spirit as a young child. But who would have known how a combination of the two would have brought her so many blessings today? Dove Style Magazine was able to connect with the "Sax Lady" herself to find out all about how she took her love of music and made it her ministry … one that heals people and hearts everywhere.
As a child, Corinthia shared how she and her sisters turned the family basement into a stage and created productions and events that consisted of dancing, music, modeling, martial arts and more for neighborhood friends and family, and that was only the beginning. The "Towanda Recreation Center" was the neighborhood space that helped Corinthia explore her creative energy and discover her passions, and she also credits this center for her martial arts lessons and where she nurtured her desire for performing and production in the arts. Her true love was music of all genres and artists, including Michael Jackson, The Brothers Johnson, and a variety of jazz artists, just to name a few. However, she also shared that what really appealed to her was music that had a message. As early as 10 years old, Corinthia displayed creative versatility through the art of writing, and it was around the same age that she developed a love of musical instruments, with her first being the violin. She explained, however, that she had a love/hate relationship with it because her peers teased her often about playing the coveted instrument. Being immature in their thinking and behavior, some of her classmates found the squeaky noise that emanated from it laughable. It got so bad that she admitted having someone steal her violin so she would not have to play it anymore, only to have her father go out and buy her another one not knowing she had anything to do with the disappearance of the first one.
From the violin Corinthia graduated to playing the clarinet, which will always be a special remembrance for her because her Mom played the same instrument in high school. To her honor, the very clarinet her Mom played had been passed down to her when she began learning how to play. It was symbolic to a "passing of the baton," if you will, because after she continued to play throughout middle school, she moved on to the saxophone in high school where her talent really began to flourish. Corinthia credits and thanks her music teachers, Mr. James Pope and Dr. Ron Kearns, a professional saxophonist for helping to develop her craft. She shared that one year, Dr. Kearns allowed her to take the saxophone home over the Christmas holiday only to return and audition for the school's Jazz band. Not only did she audition well, she earned the 1st chair!
Corinthia is extremely grateful for the schools she attended and those who she credits for starting her on her way. They include Malcolm X Elementary School, Martin Luther King, Jr. Middle School, Greenspring Jr. High School, and Frederick Douglass High School, where she was named, Ms. Music. But she did not stop there. Encouraged by the late Dr. Reppard Stone, Dr. Ronald Kearns, and another instructor, the late Dr. Thomas De Laine, Sr., she applied, auditioned, and was accepted at Howard University where she completed a 3-month internship in Music Therapy at a psychiatric hospital in New Jersey. As an intern, she was instrumental in the patients' recovery process by playing recorded music and instruments, as well as writing music with the patients who performed the song at a concert at the hospital. She says that to this day, the relationship she has with music is truly a gift from God. She also recalled an experience where through Art Therapy, she helped a client who was mute since the age of 4 after witnessing a traumatic situation, opened up to her and spoke for the first time in years.
Corinthia truly found her calling. Also, while attending college she had the privilege of meeting the talented Wynton Marsalis (who introduced her to the Jazz industry) and Harry Connick Jr. Upon graduating, she had an invitation from Mr. Marsalis to come to New York to be introduced to "heavy hitters" in the music industry. Needless to say, she took advantage of the opportunity, and Wynton Marsalis kept his word. She ended up attending NYU where she earned a master's degree, and because of her connections with Mr. Marsalis, she played saxophone in all the major clubs and rubbed shoulders with many musicians in the industry, including, but not limited to George Benson, Betty Carter, George Coleman, Elvin Jones, and Christy McBride. In addition, she also had the opportunity to perform with Winard Harper, Dizzy Gillespie and many more. However, playing the saxophone was not her only talent by far, Corinthia modeled for magazines and appeared in several major films including Boomerang, starring Eddie Murphy, Malcolm X, with the incomparable Denzel Washington in 1992, and Head of State with Chris Rock in 2003, all while traveling and touring. Being the well-rounded artist that she is, Corinthia appeared in the musical, OO-BLA-DEE that was about an all-female band, written by Golden Globe winner Regina Taylor and directed by Tony Award Winning Actor, Director Ruben Santiago-Hudson.
Eventually she had to return to her native Baltimore to help care for her grandmother who became ill. It was then that she decided to continue her musical career and become an independent artist and performed major performances in New York and other cities. She also shared that her first major event, held also in Baltimore sold out at the Modell Performing Arts Center at The Lyric that has a seating capacity of 2,564.
She continued to perform with major artists like Kirk Whalum, Richard Smallwood, and Cyrus Chestnut. In 2003, her band, Corinthia Cromwell & The Upfront Band recorded their first CD entitled "Stick It In Ya' Ear." She later started another band, Corinthia Cromwell & The Evolution Band and in 2011, she remembers being approached by a gentleman who shared with her at her CD Release concert that he had been given a ticket to attend her show and that her music saved his life. He had contemplated suicide but decided that he wanted to live after hearing her play! That moment is one that she'll never forget, she shared. Continuing, she said it helped her to know that she was operating in her God-given anointing.
Corinthia says that her music ministry was birthed out of the Old Testament scripture, 1st Samuel 16:23, that describes how an evil spirit was put on Saul by God. However, through David's skillful playing of the lyre and harp; and because his heart was right with God, his music brought healing to Saul and the evil spirit departed from him.
Similarly, her mission is to heal the mind, body, spirit and soul of those who listen to her music. She believes that music does not need one's permission to enter in. "God will deliver you, but your heart must be in the right place for things to happen the way He intended," she said.
Earlier this month, Corinthia was a featured artist at an event called "Holiday Tings" that was a part of the Kennedy Center's online Concert Series, Arts Across America, under the direction of Mr. Tony Small. She is currently working on her fifth, sixth, and seventh CDs as well as a book entitled, Tillin' the Soil, as well as new music for film and TV.
Please check her out to see what in on tap for 2021. You are in for a fabulous treat. For more information, visit corinthiacromwell.com.
(Visited 222 times, 1 visits today)