For one young man growing up in New Orleans, Louisiana with his aunt and sometimes his grandmother, life was full of crime and no opportunities for jobs. But this story will prove that his grim reality was not enough to block his future or deter him from doing great things.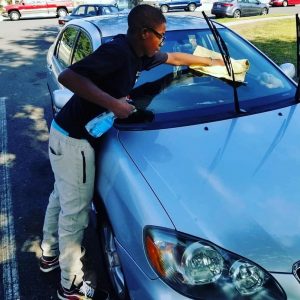 As a young man, Kevin Jones was blessed to have a mentor, Moses Bonds, who taught him how to detail cars, the importance of providing good customer service and so much more. He made sure Kevin understood that what would set him apart from his competitors is ensuring that his customers walked away happy every time! But he didn't stop there. He also made sure that he taught him how to handle the business side of things. As a result, Kevin's interest instantly grew more and more and he realized that this business venture could possibly be his ticket off of the streets and help him to become a productive member of society.
At the youthful age of 13, Kevin launched his business by creating Family, Friends and Neighbors Day, where he started out washing and waxing cars. Although things got off to a good start, life was becoming more difficult where he grew up and so his family decided that he needed to relocate to an environment that would help to keep him on the right track, so he moved to Anaheim, California in 1989 when he was 18 years old.
Although he had stopped detailing cars about a year prior to moving to California, he found himself back on the grind to find employment to keep him moving forward. Bouncing back and forth between projects and various jobs, Kevin married around age 23.
Now with a wife to support, unfortunately Kevin lost his job and was in need of employment. She and another great mentor of his, Dumas Martin, suggested that he go back into the auto detailing business, so he did. Business once again got off to a great start and quickly Kevin started getting contracts for auto detailing, After being asked multiple times about his craft by many, he decided to dust off a manuscript he had written two years prior and in 2015 he published a book perfect for do-it-yourselfers titled, The Owner's Guide to Auto Detailing, which can be found in auto parts stores around the country.
But Kevin didn't stop there. After being reminded by his mentor that his business just can't be about himself, he decided to take it a step further, and launched, "Business in a Bucket Institute"!
The brainchild of he and his wife, they also decided to develop an accompanying curriculum that focused on four areas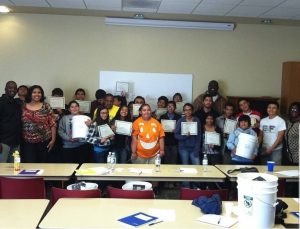 – Business Copywriting, Trademarking, Finances and Self Esteem. Geared toward teens between the ages of 13 and 18, each session can comfortably handle 25 students. At the end of the Institute, attendees receive a Certificate of Completion and a gift bucket filled with car products.
To further its brand, Kevin began speaking to various organizations including Boys and Girls Community Centers to spread the word.
Although the Institute has been well received and is really making a difference in the community; funding remains a struggle. Kevin hopes to broaden his funding base by raising money through sponsorships, donations, book sales, and t-shirts. Because most of his students are in underserved communities, in the near future he hopes to be able to be in a financial position where students will not have to pay out of pocket to attend.
When I asked Kevin what his future goals are for the Institute, he shared that he is looking to take it nationwide and he eventually wants to purchase a building of his own.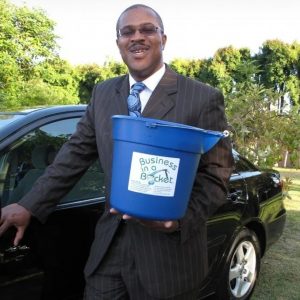 This story serves as an inspiration to many who think that they can't and won't be able to do more. However, Kevin Jones proves that humble beginnings can bring great rewards. He and his family are giving back to their community in amazing ways and they hope to continue to build and grow.
To connect with Kevin Jones and learn more about The Business in a Bucket Institute please visit his website: www.businessinabucket.org and on social media:
Facebook – Business in a Bucket Institute Non-profit organization
Facebook – Kevin Jones
(Visited 83 times, 1 visits today)