Previously: Jonah and Kari Papier have discovered that the Earth will be the center of a convergence of extra-dimensional realms, an event the planet will likely not survive. Only a Portal World can sustain the vibration balance needed to avoid the planet's destruction. With no way to stabilize or reverse the event, the Papiers consider abandoning Earth by going through the dimensional breach in their children's room. In the dimension on the other side of the tear, the Papier children were unsuccessful in trying to use a native life form as transportation to find shelter, and while Jaan was knocked unconscious by the fall off their leafray. Jaak has encountered his first humanoids – and apparently, they are hungry.
Chapter Four: Home For Dinner
"DONT YOU TOUCH MY SISTER!"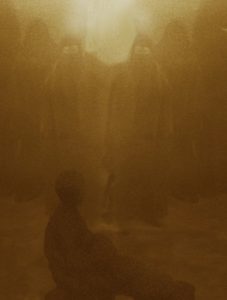 Jaak charged directly at the cloaked tall man holding the folded long-fan. The mysterious stranger side-stepped Jaak's lunge and used his fan to redirect Jaak's momentum away from him. Jaak went sprawling to the ground kicking up a new cloud of the gray dust.
"Blast it all," the man growled, "the ash was just starting to settle."
Jaak realized the man was right. It wasn't dust that had been disturbed by his attempted leafray ride, the area was covered in ash. He'd never seen anything like it – so much of it. But then he remembered he had. Pictures of islands where volcanoes had erupted and spewed sunlight-blocking clouds into the air and down onto everything under it. He saw it in a scary movie once too. As he scrambled to his feet again, maneuvering between the man and his sister's position, he looked at the area with new clarity. The lack of foliage and moister around them had meaning. There had been a great fire at some time. But first things first. He wasn't about to let this man or his gang of – whoever they were – make a meal of he and Jaan without a fight. This time he was ready. Let the man stick out that arm with the fan again and…
"Stop it, Quwee!" A softer voice sternly chided the man. "Don't tease the little guy, his sister's hurt." A smaller figure glided through the clearing ash toward Jaak's opponent. She was draped in similar clothing that seemed to be proof against the ash except for her bare feet, which were completely covered in it.
"Who says I'm joking? My belly rumbles with neglect – small portions though they'll be."
The woman swatted his chest with a playful, but serious backhand.
"She'll be fine, Hauntess." He waved off her scolding. "She only bumped her head when they fell."
"He's quite the warrior," The woman said admiringly at Jaak.
"No doubt his next attack would have put me on my butt," the man grunted back with a crooked sneer."
"No doubt." Jaak said glaring at the man, still in a crouch ready to go at him again.
The man's exposed mouth slid into a crooked smile and he nodded approvingly. He showed his palms in surrender and introduced himself.
"I am Quwee. I am Kweg of the last remaining Peikwa. How did you come to be out here? Where are your people? I saw your embarrassing attempt to ride a leafray and we came to investigate." He thumbed toward the departing stubborn creature. "You clearly aren't from around here. What is your name young warrior?"
"I'm Jaak." He pointed behind him at his sister still laying on her back in the ash. "That's Jaan. I need to get her some place with a roof so we can…"
Quwee cocked his head at Jaak's introduction. "If you don't want to tell me your names, fine, we can call you that."
"That is our names."
Hauntess placed a hand on Quwee's arm. There was a murmur among the other Peikwa. Jaak squinted at the activity.
"What's the problem?" Jaak began to get uncomfortable on top of being suspicious. The ash had settled down and he could see the rest of those gathered around him. They were all cloaked and all had fans of some kind, but he knew that they could double as bludgeoning weapons.
There was a quick conference between the Kweg and the Hauntress. The woman moved toward Jaan as she revealed a canister from beneath her cloak.
"This will revive her."
Jaak stepped between his sister and the Peikwa woman.
"What is it?"
"It's stinky," she replied. "do you want our help or not?"
"How do I know you're not just saucing her up to eat her or something."
The Hauntress looked offended by the suggestion.
"We are Peikwa little warrior. We don't eat children."
Jaak shot his eyes at Quwee accusingly. The woman followed his gaze with her own eyes and snorted as she gave the man a reproaching look for having put the child ill at ease. She moved into Jaak's line of vision to get him to focus on her again.
"He was joking. Do want me to revive her or not? I won't ask again."
Jaak hesitated for a moment, but stepped aside and watched the woman closely as she uncorked the canister and moved it under Jaan's nose. Jaan sputtered out her breath in coughs and tried to move away from the smell.
"Ugh! What's going on?" she sneezed irritably.
#
"Are you sure there's no way we can save the planet, Kari?" Jonah Papier rested his head in the crook of his arm and leaned on the wall beside the sealed door to his children's room. First his children fall into another dimension, then the world is about to end because the Otherplaces have decided to get up close and personal with Earth's dimensional coordinates. He was afraid to ask if things could get any worse.
"We would need generations to build the science, and another to fabricate it." She shook her head grimly. "That's the fast-track estimation."
Kari pointed into their children's room. "The only way I can see any hope of our survival is on the other side of that breach in there. And even that is no guarantee. For all we know, that Otherplace may be in just as much danger because it's connected to Earth now. Just as we can't open those holes, we can't close them either. All we could do was put a containment perimeter in place to keep things from passing between here and there until the connecting points no longer create a corridor where they meet."
Jonah rubbed the back of his neck to relieve the tension of his anxiety. "A Gateway would provide a stable portal, right? It would stop the pressure against the Ley-levy like a pressure valve by equalizing the immediate area?"
"Or, it creates a buffer zone were both competing properties are eliminated – like matter and anti-matter without the explosion. But where would the energy go?"
"Into the portal to keep it running? A perpetual closed system that keeps the two dimensions separate?"
"We know the technology already existed on Gateway, Jon. But is there a way to bring that stuff here? Do we have that kind of time even if we could?"
"Perhaps I could be of some assistance?"
Both Papiers were startled by the sudden company in their midst. There was no way anyone could get into their mansion without their knowing, the place was too technologically secure for that at all times. Whoever this person was, he was able to not only get past the security measures and warnings, but he also slipped past their own personal detection training. Not even a Cranston Clan ninja could do that, and they had mastered the art of sensory invisibility. The casually dressed, middle-aged man stood next to then with an annoying calm that had a hint of smugness.
"Who the hell are you?" Jonah stepped to partially shield his wife from any hostile action initiated by the intruder.
"How the hell did you get in here?" Kari demanded as she stepped into full view, ready to pounce on the man at the slightest sign of threat. She looked for any other intruders down the hall and down the stairs.
"I come and go as I please, after all," the man said with a hint of amusement, "This is my house."
He produced an ornate metallic key with the flourish of a stage magician so that it seemed to appear from nowhere. It looked identical to their own override keys. Keys only the Papier family were in possession of and they were all accounted for, except for the one belonging to Jonah's twice-great grandfather.
"Paul Papier, at your service," he said with a Victorian waist bow. "Shall we save the world together?"
To be continued…
(Visited 35 times, 1 visits today)