By: Shadez Just Sayin'
I watched Andy Ruiz, Jr. versus Anthony Joshua 2. Luckily, I didn't pay to watch it, it only cost me a $10 drink and time. 
Needless to say, it was a fight for the biggest prize in the sport of Boxing, the Unified Heavyweight Championship Title…it just didn't look like it. Correction, it didn't feel like it.
This fight could have been about redemption; or the underdog proving he was no fluke by catching lightning in a bottle for a second time; or the start of an epic series of fights. It had the makings of great storylines to put in the pantheon of Boxing history. Even a movie could be made (and has been) of two hungry boxers meeting in the ring again!
But there will be no movies made about this bout. No historians will include it in their top 10, 15, or 25…not even their top 100 fights. It just lacked that level of excitement and surprise.
Looking objectively, I'll concede both fighters fought the fight that gave them the best chance of winning. 
For Ruiz, it was to throw counterpunches at a man who had the advantage of height and reach. Wait for him to commit; open up; and leave himself vulnerable to a flurry of punches and your power. Same way you won last time.
For Joshua, it was jab and move; stay on the outside; throw lead rights to keep him guessing but at all costs, stay away from Ruiz's power. It's defensive, effective, smart, and safe.
And its not exciting. 
And I blame Joshua. 
Because it was more than his choice of tactic that was boring. Other fighters have been great ring tacticians and used the same method against powerful aggressive opponents – Leonard vs. Duran 2 for instance, fits the scenario almost to a tee. But what a fight that was! "No Mas! No Mas!"
This fight; was like an empty burrito; on the outside, it looked like it could be filled with something tasty but inside there was nothing. And who wants to buy that?
During the fight, a buddy was struggling to verbalize the feeling he got from watching Joshua. He couldn't quite place his finger on it. But I knew what he felt and I knew how to describe it: "He reminds you of Lennox Lewis."
That was it, another big British fighter who was about as exciting as plain scrambled eggs. 
Bland and placid.
Ruiz wanted to throw punches all the way up to the end. Head to head, chin vs. chin, see who's the last man standing. Lewis – I mean, Joshua wasn't going there and he didn't have to…but I wish he did.
I've watched some of the most historic fights in modern championship boxing going back to the heydays of Ali.  
When fighters were hungry, angry, and intimidating. When you felt like something important was on the line and it was going to take everything both fighters had to decide who was going to take the belt.
Mike Tyson came in as "The Baddest Man on the Planet." Ali was "The Greatest of all time." Holyfield was "The Warrior." Champions whose fights you didn't want to miss a round of.
Joshua is the Heavyweight Champion of the World again and I'm just sayin', I'm not sure I care.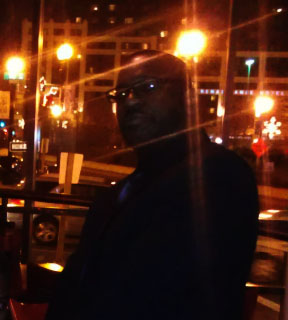 Shadez is a writer and commentator on sports, movies, music and culture.
(Visited 19 times, 1 visits today)