Visionary Dr. Jennifer Jones Bryant Leads the Way Yet Again with Volume 2 of Step Into Leadership Greatness, Leaders Producing Leaders
When you hear the word LEADERSHIP, Dr. Jennifer Jones Bryant is likely to cross your mind. To her credit, she's the Executive Founder of Reaching Within, An Empowerment Journey LLC, a bestselling author, an award-winning certified life coach, career strategist, global speaker, podcast host, adjunct instructor and a mentor. It's a no-brainer that her name would be synonymous with leader.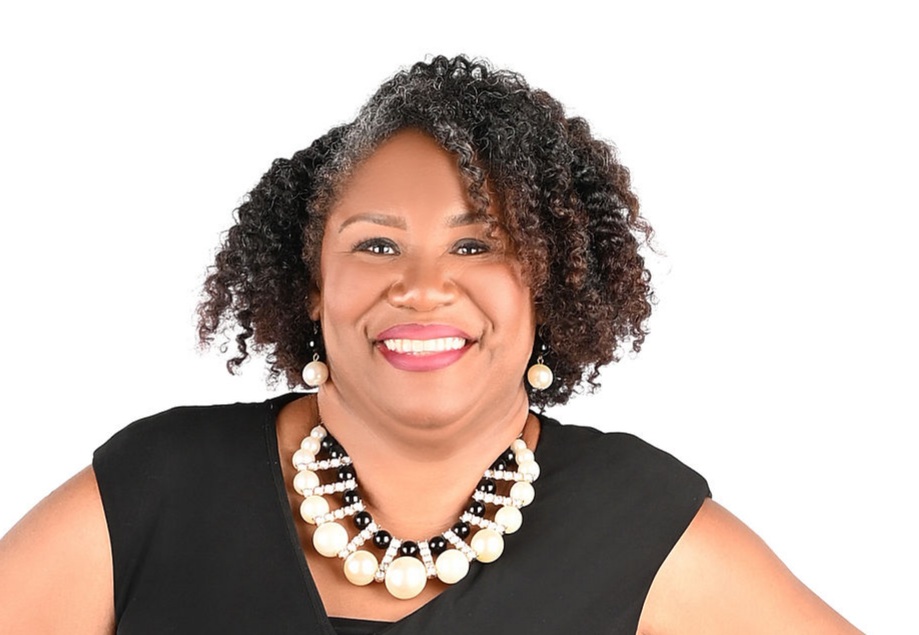 If you're still wondering why, continue reading. After birthing the first volume of Step Into Leadership Greatness, Bryant was involved with several collaborative book projects, however she had not done was one of her own. When her husband asked her when she was going to produce her own collaboration book, little did he know that he would end up motivating her to make it a reality. She never really had given it much thought. However, she decided to take it to God in prayer and wait for him to download her next steps. She also received confirmation from confidante and Master Motivational Mindset Coach Dr. Mary J. Huntley and the rest is history.
As a woman of faith, Bryant makes sure that her endeavors are in alignment with the path that God has planned for her. Not only did she pray about the project itself, but she also sought guidance from the Father on what the title of the book should be. Throughout her life's journey, she has surrounded herself with and have identified great leaders whose qualities and skills she wanted to use in her first book, Step Into Leadership Greatness – Leadership Isn't Just a Title. Volume One covered distinctive styles of leadership such as transformational and parental Leadership, among others. The co-authors consisted of men and women who shared their leadership experiences, tips, and techniques from a personal perspective.
During the planning stages of her first book, Bryant recognized that she needed help. Coming from a program management mindset, she decided to reach out to her trusted friend Mary, the very person whose confirmation helped her to move forward with the book project initially.
As a result, Dr. Huntley became the Executive Strategic Advisor over the project. She was also asked to do the honor of writing the Foreword because she genuinely believed in the project. Bryant also sought out a publishing coach. She provided different media opportunities to keep the authors visible from the presale of the book, to after the book was released. She took the approach of the "engagement model" and rolled up her sleeves from start to finish, taking the authors through the entire journey with her and her team.
Many new opportunities arose in corporate spaces as a result of this collaboration. Bryant was also afforded the opportunity of being invited to serve as the National Leader for a women's empowerment business resource group with a membership of more than 20,000 at a Fortune 100 Company, and also lead the Leaders of Color Program with the same company. The first volume of Step Into Leadership Greatness has spanned the globe, reaching readers in Europe, Germany, Africa, India, and China. She was also named "Woman of the Year in Making Headline News" because of the book's enormous impact, as well as "Author of the Year" from ACHI's Women Supporting Women Association, Inc., an honor she cherishes. As an added blessing, she also received an "angel investor" who helped to make the journey of publishing Volume 2 an amazing experience.
Not only did Volume 1 become a bestseller in three categories the night before they even started their campaign, but it also achieved the status of International Bestseller! Bryant admits that the best part of producing her first publishing endeavor was sharing in the excitement of those who became first-time authors! It's not a shocker that they were eager and excited to do it again.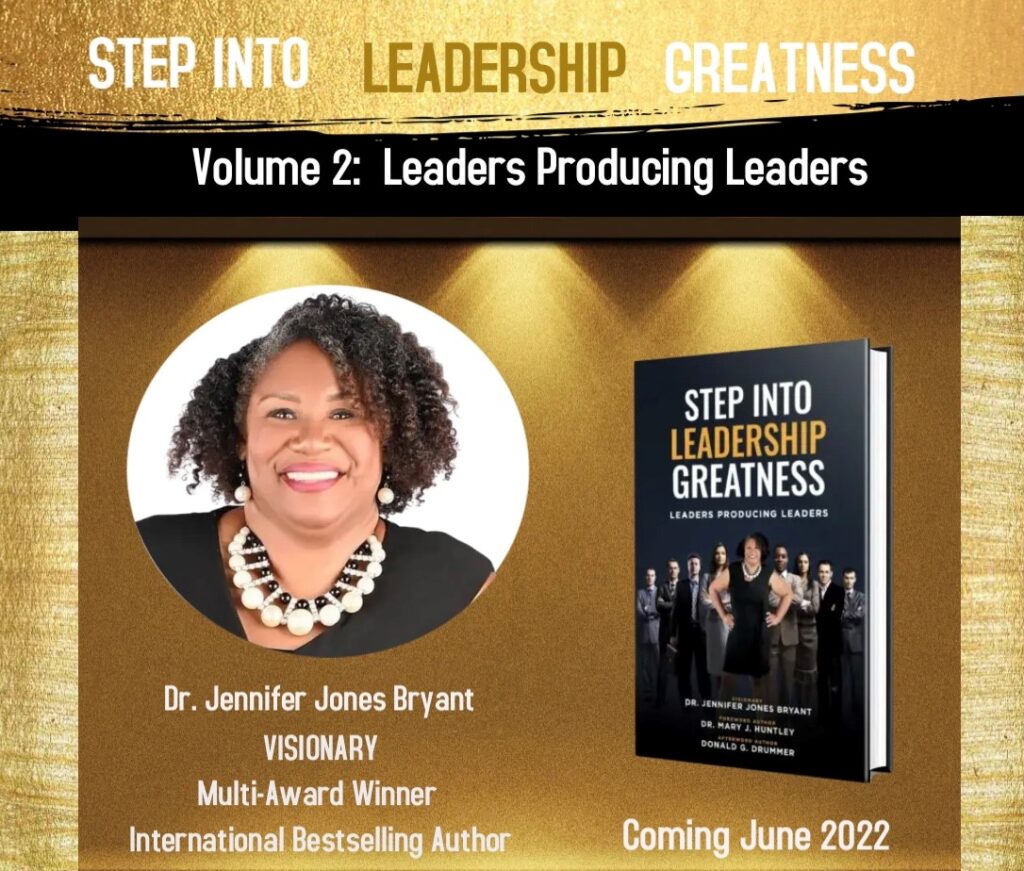 After receiving the revelation from her husband and the green light from God, Dr. Jennifer Jones Bryant decided to do it again, and STEP INTO LEADERSHIP GREATNESS, Leaders Producing Leaders, Volume 2. As she had done with the previous volume, she was very selective about her co-authors. She wants this next book to reach even further. Not only will this new volume include a Foreword by her friend and trusted advisor once more, but she is also including her mentor, Don Drummer a member of the Executive Board of the Washington Metropolitan Transit Authority as the author of the Afterword, which will result in the book making an even great impact around the world.
Bryant is beyond excited about what's to come for this next volume including endorsements and ensuring that the co-authors learn about how to monetize their chapters in the book in order to build their platform. Branding is definitely something she really wants to push with this second volume. Her goal is to show the co-authors the importance of investing in themselves.
Because of the mark that Dr. Jennifer Jones Bryant has left in the world of leadership, she has created other platforms such as the Leadership Mentoring Circle, a 4-month program that helped to enhance leadership skills in others. She's also a role model on the job and has certified some of her fellow colleagues as Peer Coaches. When asking if she had ever thought about developing a leadership certification program, she said that the thought had crossed her mind and is something that she'll be praying about.
Bryant is excited about what is to come as she continues her journey of igniting others to step into their leadership greatness. She says she is no longer chasing opportunities, rather, opportunities are finding her! Her motto is: You are interviewing everyday (whether you realize it or not)! She recalled the moment when she was questioned about her leadership style and the perceptions people had of her. She was motivated to put in some self-work, invested in her vision, and now look what she has accomplished. She has created not one, but two volumes of books that will empower others to LEAD!
Bryant believes that one should always have a continual growth mindset and be ready to do the necessary leg work to accomplish their vision, as well as sharing it with others in order to help them to do the same. Her goal is for her books to land in the hands of a diverse population all over the world. As employees begin returning to a more normalized work posture, she wants to empower them with the necessary skills that will lead them to job promotions through one-on-one coaching, goal setting, and revamping their resumes.
She says:

1. Set the Goal.
2. Achieve the Goal.
3. Take bite-size moments of victory and celebrate them.
When you envision a creative, authentic, transparent, and caring leader – one with a professional presence and integrity – think Dr. Jennifer Jones Bryant … think leadership. Her desire is to ignite others and elevate them to the next level. She is not just talking about it; she is leading the way!
To contact Dr. Jennifer Jones Bryant for more information, please connect @
www.reachingwithinempowerment.com
Instagram – @ReachingWithin
Facebook – Reaching Within
Twitter – @WithinReaching
LinkedIn – Dr. Jennifer Jones Bryant
(Visited 112 times, 1 visits today)