Gail Crowder Launches the 1st "VIRTUAL MOM MAKEOVER"
Never assume what you see is what you get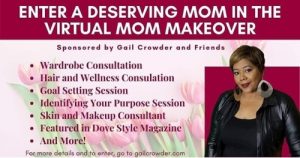 Moms are sometimes the most UNSUNG heroes around. So, when an opportunity arises to shine a little light on a mom and spoil her a little rotten, we cannot miss out. So, Marriage and Relationship Expert Gail Crowder came up the perfect solution, The Virtual Mom Makeover. Realizing that everyone is going through something dealing with the current state of the world with the pandemic, police brutality and more; what better time than the present to pour back into one of our most overlooked and silent heroes, a MOM!
The process started with a Call of Action to nominate mothers who deserved to be pampered and spoiled…one whose cup needed to be re-filled. Why?  Because, as moms, we tend to pour so much into others and rarely do we take the time to pour into ourselves. We must look out for each other because we are all in this together.
Ryan answered the Call of Action for the Virtual Mom Makeover and made a selfless decision by nominating her friend of 10 years, Ms. Cara Fulton, a Pittsburgh native and the blessed mom of a handsome 7 yr. old son who she cherishes with all her heart. Little did she know that she would end up being the grand winner!
The journey started with a ZOOM meeting introducing Gail and Cara, to share the purpose behind this project and how it came to fruition. It also gave Gail a chance to learn more about this fabulous woman and what made her so deserving of this special honor. A new experience for all parties involved, the intensity and excitement were sure to be great.
So, who is Cara Fulton? Cherished to be called Mom, this phenomenal woman's mission and goal are to transform her life to benefit her son and their future. She received a Bachelor of Arts degree in Interdisciplinary Fine Arts from Indiana University of Pennsylvania (IUP), a Masters of Fine Arts with a concentration in Theater Technical Design and Production from CUNY-Brooklyn College, and a Masters of Arts with a focus on Student Affairs in Higher Education also from IUP, which she earned in 2018 after earning her MFA 12 years earlier.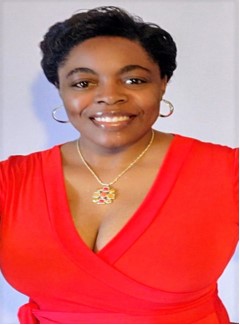 Cara has been a professional actress, singer, and dancer on stage and in film. One of her many career highlights includes being a cast member in the film about the legendary Motown group The Temptations where she portrayed one of Vandellas. You can also find costume designer on her impressive resume, having traveled the country as a freelance designer and costume shop manager, designing costumes for off-Broadway productions and interning with the New York City Ballet. Cara then ventured to corporate America working in the banking industry and eventually transitioning to higher education where she has served as an Admissions Counselor, Adjunct Professor, Director of a Career Center, and Manager of a Career Readiness program. She describes herself as an outgoing introvert who wants to get better at looking at what she has instead of what she does not have.
Right out of the gate, Gail wanted to know Cara's reaction when she found out that not only had she been nominated for the virtual makeover, but actually won. She remembers her using the words, shocked, touched and special! Cara was totally surprised and really felt appreciative that someone would even think of her enough to do this.
Gail put together a team of other female visionaries who were more than excited to jump on board and make this dream a reality for this remarkable Mom. In addition to herself, the Makeover Dream Team included:
Kim Reed-Butler – A Herbalife Distributor and skilled Hair Specialist who helps others to discover their BEST self by developing a healthy inside and a beautiful outside through nutrition and hair care
Kiki Ramsey – A Certified Life Coach, Motivational Speaker, and Author who dedicates herself to the lives of others by showing them how to find their purpose and true calling by doing the work they love.
Shawn Mason – A Professional Copywriter and Marketing Strategist who also has a gift in skin care and make-up having worked as a Mary Kay Director.
Tawawn Lowe – CEO of Tawawn Lowe Enterprises (TLE) and a Transformational Lifestyle Consultant who shows people how to take charge of their destiny and discover their dreams.
Gail wanted this entire experience chronicled and highlighted as a feature in Dove Style so its readers could live vicariously through Cara as if they were a personal part of her journey. After the initial meeting, Gail set up one-on-one virtual sessions that spanned over five weeks between Cara and each member of the Makeover Dream Team. First up … Mrs. Kim Reed, Hairstylist and Health and Wellness Expert whose assignment was to talk to Cara about the state of her health and hair.
Their discussions centered around her daily health routine. One of the things Cara shared was her obsession with her weight most of her life like so many other women. Kim shared some powerful tips to help Cara learn how to maintain a healthy dietary routine that included drinking water daily and making healthier food choices as opposed to yo-yo dieting. They also discussed healthy hair regiments including protein treatments and products that would help to strengthen her hair. Kim connected the dots for Cara on how maintaining a healthy lifestyle and hair care can go hand in hand based on what you put in and, on your body, and how it can make a positive difference in adopting a healthy lifestyle!
Week 2 – Cara met with Kiki Ramsey to discuss and identify her purpose in life. Being the mom and woman that she is, she was already on the right path which made the time spent with Kiki very engaging. They were able to talk about enhancing her journey and what next steps looked like. Cara mentioned that this part of the virtual makeover was huge for her because it helped her to focus on the specific things she needed to work on while living in her purpose, such as improving her relationships, broadening her perspective and allowing God to work on her heart.
Week 3 – Cara connected with Shawn Mason to discuss her skin care and make-up routines. Cara shared that she wears minimal makeup, so their focus was centered more on maintaining a healthy skin regiment and how to apply makeup lightly and quickly. One of her concerns was maximizing her time and not wasting it in the mirror putting makeup on before going out. Shawn shared some simple and time sensitive tips with Cara like using a little mascara and eyeliner to enhance her already beautiful eyes, as well as applying a little lip gloss to make her lips pop. She also emphasized the importance of moisturizing the skin and even gave Cara some product suggestions that she could use to create a comfortable system to maintain healthy skin without being overwhelmed by the process. As an added bonus, Shawn even supplied Cara with a video that could visually show her how to apply and maintain all the tips they discussed.
As Week 4 arrived, Cara spent that time with Tawawn Lowe to discuss Goal Setting. Tawawn kicked off the session with some thought-provoking questions for Cara to ponder and identify where she was with her goals. For example: How do you want to show up in the world? Cara again was already headed in the right direction and had already met so many of her business deliverables, but Tawawn was able to dig deeper and focus on what Cara might need in her personal life as well. Being an ordained minister, Cara shared that her main goal was continuing to enhance her relationship with God and her second goal was to do some self-healing. She shared that she wanted to have a meaningful relationship that could possibly lead to marriage again one day, but she also wanted to make sure she was content in her single state even if she did not. Tawawn was able to share some tips and things to think about to help her to accomplish that and more.
Week 5 was the meeting to end all meetings where Cara got to spend additional time with Visionary Gail Crowder. She wanted to end this Mom Makeover experience with a heart to heart discussion about Cara's dreams and what she got out of the experience and how she felt after completing the process. She wanted Cara to discuss her highs, lows, and take-aways that resulted from her prior discussions with the other ladies. The one word that Cara mentioned about each encounter with these fabulous ladies was "INSPIRING"!
Cara described her time with Kim as a "feel good" session. In addition to the wellness and hair care tips, she also learned some information to help release tension and stress, which can do a body good.  She then described her session with Kiki as "pivotal". She shared that Kiki pushed her through her fears and helped her find courage to move forward in her dating journey by being open, honest, and patient. Kiki even helped her to change her mindset and push the button on setting up her profile for online dating.
And then there was her session with Shawn that was described as a session full of "energy". Shawn's energy got her excited about some quick and easy tips on how to apply just a little bit of makeup while continuing to maintain a simple skin care regiment that was specific to her lifestyle with being a busy mom and businesswoman. The meeting with Tawawn Lowe was an "emotional" for Cara. Although she was already on the right road with conquering her career goals, Tawawn changed gears highlighting Cara's personal goals in love and life, and things got real. Described as transparent and raw, Cara revealed her heart's fears and desires and was able to experience some true self-healing. Tawawn shared with Cara that although healing can be truly scary, she DESERVED to be healed! This was a powerful experience.
Last, but certainly not least, Gail topped off the whole experience with some great personal styling tips including best colors to wear, practical shoes for different occasions and jewelry suggestions. She also talked with Cara about expectations in life and relationships and how struggling through these moments was part of getting through. Her session with Gail was described as "encouraging" as she encouraged Cara to just be present in the moment with no added pressure and always take it back to God.
As the session was coming to a close, Gail also shared what she gained the most from Mom Makeover Experience, and that is you can never judge a book by its cover, and you should never assume you know what someone needs. The words that came to mind were "plot twist". When one thinks of a makeover, often, the assumption is that someone needs help with their fashion, hair or other external qualities. However, that was not the case with this makeover at all. This experience proved to be the very opposite. This makeover was truly an "INSIDE JOB"!
No doubt, Cara came into this process on top of her game. But what this makeover unexpectedly provided for her was a deeper acknowledgement of what she desired in her heart and I do believe that she as well as everyone involved came through this experience enlightened in a beautiful way about life, love and the pursuit of happiness!
I do not think this is the last of the "Virtual Mom Makeover", so stay connected with Gail Crowder! She is making positive changes in the lives of women all over the world. To learn more about this powerhouse, or participate in future conferences, projects, or the next Mom makeover, please visit www.gailcrowder.com.
Facebook – Gail Crowder
Instagram – @gailcrowdersexpert
Twitter — @gailcrowderinc
(Visited 137 times, 1 visits today)